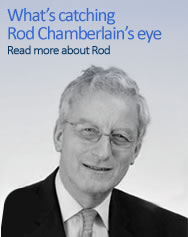 Here's a gem from the journalist and former MP Matthew Parris which had me laughing out loud as I read it this morning:
The English language, with its rich store of imagery, makes wonderful use of illness, ugliness and disability. Arthritis, obesity, amputation, speech defects, old age, hair loss, insanity, hearing difficulties, learning difficulties, poor eyesight - where would English metaphor be without them? "It should be baldly stated that, crippled by indecision, deaf to all advice, blind to the cancer in their midst, and fat on their unearned income, the company's board, half of them in their dotage, should do better than stammer out a few poxy excuses for an arthritic half-year performance, impotent leadership, a lunatic marketing strategy, toothless management and the economics of the madhouse."
Wonderful stuff!
Uncle Rod's Deathless One-Liners
This selection changes each time you access this page. To see the full list click here.
'They've got to understand' is always spoken by a loser